Welcome!
A Charming Blend by Tonya Kappes
is now out. This novella is a crossover between A Magical Cures Mystery series and A Killer Coffee Mystery series. The magical town of Whispering Falls has a problem when nosy Roxy Bloom arrives with new husband for their honeymoon. Can June Heal keep Roxy distracted when a man is found murdered? It is available on Kindle Unlimited.
In His Father's Footsteps by Danielle Steel
takes us back to April 1945. Emmanuelle Berger and Jakob Stein are in Buchenwald when U.S. troops liberate the camp. Jakob had been in the concentration camp for five years and his entire family was exterminated. Emmanuelle was near death when the soldiers arrived. To avoid separation, the pair marry and relocate to America with the help from a sponsor. They work hard at labor intensive jobs and live in a small, dingy apartment on the Lower East Side. One day, Jakob meets Israel "Izzy" Horowitz, a diamond dealer, who offers him a job. Jakob learns the business quickly and is soon Izzy's right hand man. As Jakob makes more money, he invests it into real estate. Jakob and Emmanuelle have a son, Max who they dote upon. Max attends the best schools with the determination that he will never struggle for money. Instead of following in his father's footsteps after graduating from Harvard, Max wants to make his own way in the business world. He marries Julie Morgan at a lavish society wedding and installs her in a luxurious home with a large staff. Max is a successful business with a beautiful wife, extravagant home and children. However, he feels that he cannot have enough money and is constantly at work rarely seeing his wife and children. A tragedy makes Max see that he has a failing marriage and is setting a poor example for his children. While Max achieved the American dream, he neglected the basic lessons his father taught him. Can Max turn his life around?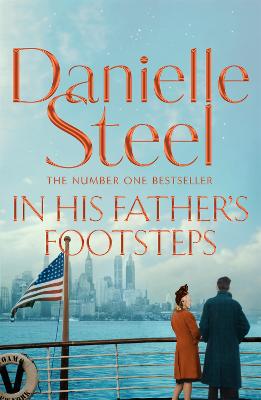 In His Father's Footsteps
is a well-written and engaging story. It is an emotional novel that takes us from horrific Buchenwald to the lavish Upper East Side. We follow our characters as they set out to achieve the American dream of becoming successful and having a family. Can you imagine living through the horrors of a concentration camp? It will indelibly leave its mark on a person as we see in this book. I could feel the characters emotions and struggles. The choices the characters made was based on their experiences. I thought the author captured the time period and the various settings. I admit that I enjoyed Emmanuelle and Jakob's story better than Max's. Max, though, was raised differently which caused him to make decisions that we may not like (or agree with) but were understandable. I appreciated the epilogue which nicely wraps up the book (we would expect no less from
Danielle Steel
). While there is some predictability to the story, it did not hinder my reading pleasure. I have been reading Danielle Steel's books since I was twelve years old and I never get tired of reading her novels. I am giving
In His Father's Footsteps
4 out of 5 stars (I liked it). Ms. Steel's next release is
Silent Night
which comes out on March 5.
I want to thank you for joining me today. I am featuring
One Feta in the Grave by Tina Kashian
tomorrow as part of the Great Escapes Virtual Book Tour. It is the third book in
A Kebab Kitchen Mystery series
. There might be a giveaway for you to enter. Take care and Happy Reading!