Fashions Fade, Haunted Is Eternal (A Haunted Vintage Mystery)
About the Book
Fashions Fade, Haunted Is Eternal (A Haunted Vintage Mystery)
Cozy Mystery
7th in Series
Kensington (December 18, 2018)
Mass Market Paperback: 304 pages
ISBN-10: 1496714660
ISBN-13: 978-1496714664
Digital ASIN: B07BV3RM9S
A photo shoot in a graveyard ends in a grave shooting . . .


Cookie Chanel—owner of the chic clothing store It's Vintage Y'All in Sugar Creek, Georgia—has been hired to dress models for a fashion shoot. The spread will be featured in Fashion and Style magazine's October issue—so the models are posing in a cemetery. As someone who can see and talk to ghosts, Cookie's not spooked by the location. But she is surprised when a new ghost appears, decked out in 1920s couture. And she's shocked when she hears a gunshot. Then a model runs toward her, saying the grumpy photographer has been edited out of the picture – for good. With help from her ghostly pals, Cookie must zoom in on the truth before she's the next to strike a final pose . . .


Don't Miss Cookie Chanel's Savvy Vintage Shopping Tips and Charlotte's Fashionable Tips for the Afterlife!
Rose Pressey
enjoys writing quirky and fun novels with a paranormal twist. The paranormal has always captured her interest. The thought of finding answers to the unexplained fascinates her. When she's not writing about werewolves, vampires and every other supernatural creature, she loves eating cupcakes with sprinkles, reading, spending time with family, and listening to oldies from the fifties. Yeah, she loves Elvis. She can't help myself. Rose lives in the beautiful commonwealth of Kentucky with her husband, son and two sassy Chihuahuas.
My Thoughts

Fashions Fade, Haunted is Eternal by Rose Pressey takes us back to Sugar Creek, Georgia. Cookie Chanel owns It's Vintage, Y'All and has been hired by Tyler Fields, a photographer, to style models for a fashion shoot for the Halloween issue of Fashion & Style magazine. The shoot is taking place at a local cemetery where Tyler has been snappish all day and Cookie saw him get into an argument with a man who has been lingering in the background all day. Cookie is surprised when a ghost dressed in fashions from the 1920s appears next to her and her ghostly friend, Charlotte. Minnie Lynn is wearing the pearls that Cookie recently acquired at an estate sale. Before she can react to the spirit, a shot rings out which sends Cookie running towards the sound. A model runs past her stating the photographer is dead. Cookie finds Tyler lying next to a headstone and he has taken his last shot. Detective Dylan Valentine, Cookie's boyfriend, arrives on the scene and Cookie fills him in on all the details. Dylan, thankfully, knows better than to warn Cookie not to delve into the case. Cookie is back at her shop when her friend Heather pops in. To their surprise, Heather can now see Charlotte and Minnie. Cookie's first order of business is identifying the man that Tyler was arguing with at the cemetery. Krissy Dustin, one of the models from the shoot, is a talkative woman and provides a suspect in Tyler's possessive ex-girlfriend. Cookie goes back to examine the crime scene in more detail and a helpful cat leads her to a clue. Cookie soon discovers that the cat is no ordinary feline. Cookie, with the help of her spirit friends, Grandma Pearl (aka Wind Song) and her new feline companion, sets out to dig up Tyler's killer.
Fashions Fade, Haunted is Eternal is an entertaining and lighthearted cozy mystery. Cookie Chanel is a quirky young woman who dresses in vintage fashions plus drives a beautiful classic car. Her best friend, Heather Sweet, owns Magic Emporium which has helpful books for Cookie plus a Ouija board when Grandma Pearl needs to converse. Minnie Lynn was a fun addition to the book. The witty repartee between Minnie and Charlotte will have you in stitches. The way Cookie walks around town talking to the ghosts, I am surprised the whole town is not aware that she can see and talk with spirits. I like that Dylan is now aware of Cookie's secret. Dylan Valentine is a good man and the perfect suitor for Cookie. He understands her and accepts her (does not want to change her). I like that nothing seems to phase Dylan. The mystery is straightforward and is a cinch to solve. Cookie goes around asking questions, listening in on conversations, and does a little catfishing to garner information. The ending is romantic and heartwarming (readers will love it). It was the perfect ending for Fashions Fade, Haunted is Eternal. Fashions Fade, Haunted is Eternal is the seventh book in
A Haunted Vintage Mystery
and it can be read alone. Rose Pressey has an engaging, casual writing style which makes her stories a pleasure to read. Her characters are likeable, and the setting is charming. The town is filled with friendly residents who understand and accept Cookie's quirks. I am giving Fashions Fade, Haunted is Eternal 4 out of 5 stars (I liked it). If you wish to read a lively and humorous cozy mystery, then look no further than Fashions Fade, Haunted is Eternal.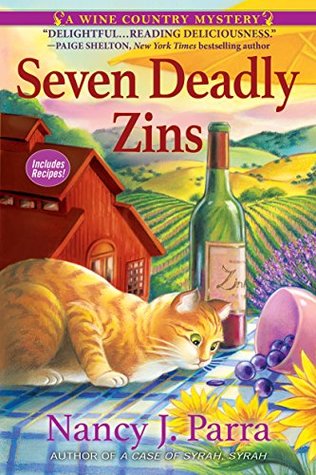 Fashions Fade, Haunted is Eternal is available at
Amazon
,
B
arnes & Noble
,
Kobo
,
Google Play
, and
IndieBound
. For a complete list of books in A Haunted Vintage Mystery series, click
here
. There is a preview at the end of Fashions Fade, Haunted is Eternal for Rose Pressey's new The Haunted Arts & Crafts Mystery series featuring Celeste Cabot. The first book is titled Murder Can Mess Up Your Masterpiece, and Celeste owns a pink & white Shasta trailer (no release date yet). In honor of the tour, there is a giveaway. Click
here
to enter or use the Rafflecopter form below. Stop by the other blogs for character guest posts, reviews, fashion tips and author interviews (schedule below). I will be back tomorrow with my thoughts of
Seven Deadly Zins by Nancy J. Parra
. I hope you have an enchanting day. Take care and Happy Reading!