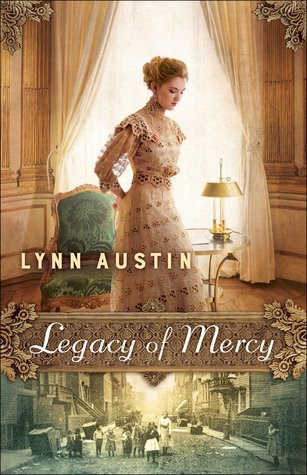 Welcome! I just love the beautiful cover on Legacy of Mercy (above).
Ladies of Intrigue by Michelle Griep
release on January 15. I will be featuring it as part of the Celebrate Lit Tour on February 23.
Hot Fudge Murder by Cynthia Baker
comes out on January 29 along with
Murder, She Meowed by Liz Mugavero
.
The Forgiving Jar by Wanda Brunstetter
will be out on February 5. So many wonderful new books and not enough hours in the day to read!
Legacy of Mercy by Lynn Austin
is the second novel in
Waves of Mercy series
. Anna Nicholson has returned home to Chicago after spending time with her newly discovered grandmother, Geesjede Jonge in Holland, Michigan. Her mother wishes Anna to focus on her upcoming wedding to William Wilkinson, but Anna wants to know more about her birth parents. Her father hires Pinkerton detectives and Anna soon finds herself meeting people who once knew her mother. The more Anna learns, though, the more she understands why her adopted mother wished her to leave the past buried. Unfortunately, secrets have a way of coming out especially when there is a vengeful society lady involved. Anna wants to share her faith with others, but her society acquaintances are not receptive. Anna wants to make a difference and is curious what God's purpose is for her life. Anna seeks counsel from her Oma, Geesjede in Holland and she also gets to spend time with Derk Vander Veen. Geesjede has the troubled Cornelia Den Herder staying with her. Cornelia and her grandfather, Marinus are new to America. Geesjede hopes in time that Cornelia will open up to her and she can help the unsettled young woman. She also hopes her insight will guide Anna to make the right choices. Where will Anna's search lead her? Will she follow her heart, or will Anna do what is expected of her?
Legacy of Mercy
is a multifaceted story with developed characters.
I thought Legacy of Mercy was well-written with a gentle pace which suits the story.
The author's writing drew me into the book and it held my attention.
Anna Nicholson is a thoughtful, Christian woman who has recently discovered her maternal grandmother.
Despite negativity from her adopted mother, Anna is determined to learn about her birth parents.
The information she learns, though, could jeopardize her standing within society.
I liked that Anna wanted to share her Christian values with her circle of friends and her family.
Anna needs to decide if she will marry William as expected or follow her heart.
While the focus of Legacy of Mercy is Anna, we also spend time in Holland, Michigan with Geesjede.
Geesjede is forced to share her cottage with newcomer, Cornelia.
She soon learns that God put Cornelia with her for a reason.
While
Legacy of Mercy
can be read on its own, I recommend starting with
Waves of Mercy
first.
Lynn Austin captured the era with the clothing, buildings, furniture, conveyances, books, expectations for women, and the historical characters referenced (Jane Addams and Ellen Gates Starr for instance).
I appreciated that Anna went to visit Hull House and the author talked about the conditions that exist for the poor in Chicago in 1897.
The Christian element is integrated nicely into the book.
Anna is trying to live a Godly life, but it is difficult as a society woman.
We see the struggles Anna faces.
There is a lot going on in Legacy of Mercy, but it is enjoyable to read.
Personally, I could have done without the secondary storyline involving Cornelia and her grandfather (it did not tie in with Anna's story).
I did feel that Cornelia's story was incomplete (I wanted a better ending for her). I am giving
Legacy of Mercy
4 out of 5 stars (I liked it).
Legacy of Mercy
has a heartwarming ending that will please readers.
Thank you for reading my review today. I am featuring
Steamed Open by Barbara Ross
tomorrow as part of the Great Escapes Book Tour. There will be a giveaway! I hope you will stop in and enter. May you have a untroubled day. Take care and Happy Reading!
Kris
The Avid Reader