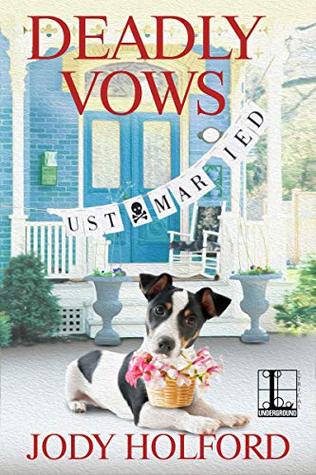 Deadly Vows by Jody Holford
is the second
A Britton Bay Mystery
.
Molly Owens has been settling into her new life in Britton Bay where she lives in a cute cottage, dating Sam Alderich, editor of Britton Bay Bulletin and has adopted adorable black and white border collie named Tigger.
Katherine Alderich's bed and breakfast, where Molly's cottage resides, is a beehive of activity for the upcoming wedding of Chantel Lovenly and Blake Brindle.
The mother-of-the-bride, Patricia Lovenly has hired Skyler Friessen, who recently won a cable cooking contest, to cater all the meals plus the wedding which has taken business away from the local restaurants and bakery.
The temperamental Skyler maintains strict control of the ingredients and the kitchen (she allows no sampling).
Molly gets the haughty chef to agree to an interview.
When Molly shows up at the Seaside Shangri La where Skyler is residing the next morning, she learns that Skyler was found dead in her room.
Bakery owner, Bella Reid is at the top of the suspect list because a latte from her bakery, Morning Muffins was found in Skyler's room.
Things are spiraling out of control at the B&B as the bride and her mother continue to argue over the details of the wedding which Patricia insists go forward.
Molly is not surprised when learns that the bride has disappeared putting the wedding on hold.
Molly, despite being told multiple times to stay away from the investigation by the police, questions members of the wedding party and scrutinizes the clues hoping to pinpoint the killer.
Molly needs to be careful or she could find herself in a sticky situation.
Deadly Vows
is a light hearted and romantic cozy mystery.
This second installment in
A Britton Bay Mystery series
can be read as a standalone.
I like how the information from
Deadly News
was incorporated into the story.
Molly Owens is happy with her new home and job.
She enjoys spending time with Sam and her puppy, Tigger.
Molly has the perfect location (her cottage) to watch the wedding drama at the B&B unfold.
The mother-of-the-bride is controlling the wedding.
Patricia Lovenly grew up in Britton Bay and has come back to gloat over how rich she is by throwing a spectacular, over-the-top wedding for her daughter.
It does not seem to matter that this is not what her daughter and the groom want.
Skyler Friessen is the chef for the event, and she is a prickly.
It is no surprise when she turns up dead.
Molly just needs to figure out which individual disliked Skyler enough to kill her which is easier said then done.
There are a couple of suspects, good clues and misdirection.
Deadly Vows is nicely written with steady pacing.
I could have done with less repetition (I get it the first time).
I did not like how many times Molly was told to keep her nose out of the investigation (it was not going to happen).
I also felt the romance between Molly and Sam was too much for a cozy mystery.
It came across as sappy (especially the dialogue) and their relationship progressed too quickly.
We are introduced to numerous characters in this book and many of them had nothing to do with the plot.
An example is Clay, the newspapers supposed social media coordinator.
He added nothing to this story, and I am shocked he has not been fired.
Some tweaks would enhance this cute mystery series.
Deadly Vows
is an easy breezy cozy mystery with a dead chef, a battling wedding party, an adorable pup, a handsome beau, and one a nosy reporter.