Good Day!The Governess of Penwythe Hall by Sarah Ladd will be available on April 16 along with A Perfect Amish Match by Vannetta Chapman. Some historical events that happened on April 11 include. . .1900--the first modern submarine designed and built by John Philip Holland is purchased by the U.S. Navy, 1912--the RMS Titanic leaves Queenstown, Ireland for New York, 1921--Iowa imposes the first state cigarette tax, 1950--Prince Rainier III becomes ruler of Monaco, 1961--Bob Dylan makes his first appearance at Folk City, Greenwich Village, 1970--Apollo 13 launched to the moon, and in 1976--the Apple I computer created by Steve Wozniak is released.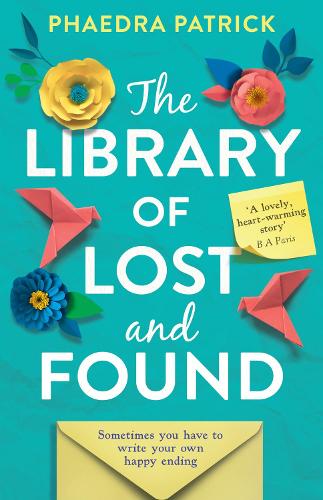 The Library of Lost and Found is the latest novel by Phaedra Patrick.
Martha Storm is a library assistant in Sandshift.
She lives a quiet life since her parents passed away.
Martha spends her time helping others and she keeps careful track of the status of her favors in her small Wonder Woman notebook.
Martha is heading to the library for an author signing event when she notices a shadowy figure leaving a package.
The brown paper wrapped parcel has Martha's name on it.
Inside she finds a battered book of fairy tales with a dedication written to her by her grandmother, Zelda Sanderson who passed away in 1983.
The inscription is dated 1985.
How could her grandmother have written this message in 1985 if she died in 1983?
Zelda was Martha's favorite person growing up and her life changed when she was no longer around.
Martha wants to learn the truth and starts searching for answers.
Martha has started down a path that will change her life forever.
Once you start looking into your family's past, you are bound to uncovers secrets.
Is Martha prepared for what she unearths?
The Library of Lost and Found
(3/5 stars) is not what I expected from the book description.
Martha Storm is a woman in her 40s (we are not given her exact age) who cannot say no.
It seems that all the locals take advantage of Martha by unloading various tasks they do not wish to do on her (fixing papier mache dragon head for school, cleaning chandeliers, doing Nora's endless bags of laundry because her machine is broken, storing items, fish sitting, hemming her nephew's pants) for which she gets nothing in return (rarely even a thank you). It does not help that Martha feels unworthy thanks to her father and his controlling nature.
The story also takes us back to Betty Storm, Martha's mother, and her life with Thomas Storm.
We see how Zelda affected their lives and finally what happened to Zelda.
The special book left for Martha is what prompts change in Martha's life.
We follow Martha's journey for the truth.
While others may see The Library of Lost and Found as a feel good story, I found it depressing.
The author is a verbose descriptive writer (i.e.—long winded and detailed) which leads to a slow paced story.
There is a slight uptick in the pace towards the end of the book.
I thought it was a predictable story, and I wanted something more.
Two phrases I liked from the book are "I take each page and chapter as they come" which is from Zelda and the other is "You should always make time for books" (very true) from Owen.
Owen wore a shirt that had "Booksellers—great between the sheets" on the front (makes me smile).
For readers who like to read women's lit, you will find this story appealing.
The Story of Lost and Found
is about letting go of the past so you can move forward towards a brighter future.
Thank you for reading my review today. Please consider following my blog (blue buttons--upper right) if you find them helpful. I am part of the Great Escapes Virtual Book Tour for
Bat Wings, Rings and Apron Strings by Erin Johnson
tomorrow. There will be a giveaway for a digital copy of the final book in the
Spells & Caramels series
. I hope you will visit tomorrow and enter. Take care and Happy Reading!